Kerio Connect Client shows all Exchange ActiveSync mobile devices (mobile phones, tablets) connected to your Kerio Connect account.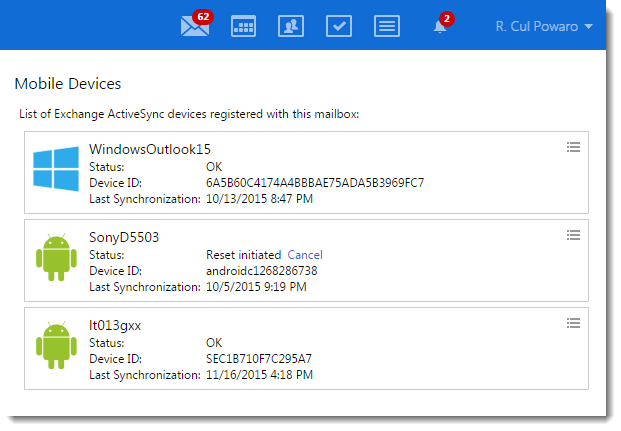 Resetting your devices
If you lose your device or the device is stolen, you can protect your personal data by deleting all the data from the device. This action is also called remote wipe.
IMPORTANT
This action resets your device to factory settings. All data, including photos, videos, music, calendars, emails, will be deleted from your device. Some devices may also delete all data from memory cards.
Click Tools > Settings (in Windows Client), or 

Kerio Connect

 > Settings (in Mac Client), or your name > Settings (in Web Client).
Go to the Mobile devices section.
In the list of mobile devices, find the device you want to reset and click Reset Device.

Type your 

Kerio Connect

 Client password to confirm the reset.
Once the device connects to the 

Kerio Connect

 server, all data will be removed from the device. You can cancel the reset before the device connects to the 

Kerio Connect

 server (click Cancel).

When the reset is complete, select the device and click Remove Device to delete the device from the list.

NOTE
If your device is lost or stolen, we recommend changing your Kerio Connect password after you reset your device. If your iPhone is connected via IMAP, use the Find my iPhone feature to wipe your phone.