To customize the appearance of your Kerio Connect Client, you can:
Change the color theme
Select the position of the message preview pane
Hide the folders menu
Changing the color theme
The default color of Kerio Connect Client is blue. To select a different color theme, click your name in Kerio Connect Client and select Change theme.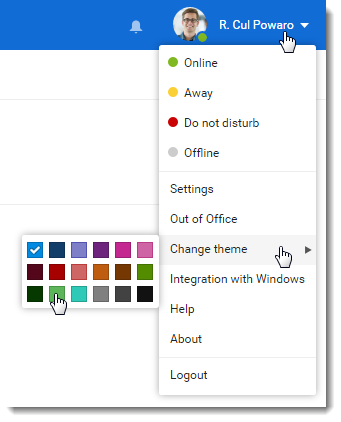 Previewing messages
In Kerio Connect Client, you can preview your email messages on the right, on the bottom, or you can hide the preview window.
To select where to display previews of messages:
Click Tools > Settings (in Windows Client), or 

Kerio Connect

 > Settings (in Mac Client), or your name > Settings (in Web Client).
Go to the Email section.
In the Preview pane section, select the position of the pane or disable it.
Click Save.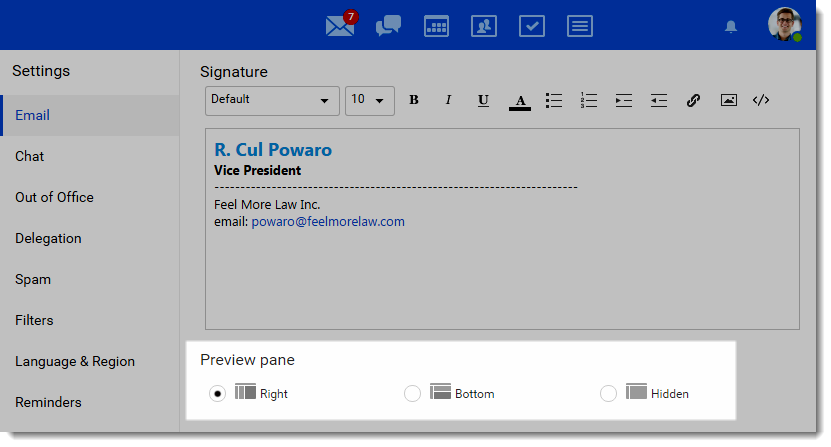 Hiding the folders menu
To save some space on your screen, you can hide the folder tree on the left.
Click the blue double-arrow button 

 under the Search box.
You can hide the tree regardless of the position of the preview pane.

To display the folder tree, click the blue double-arrow again.